How to Make Green or Hazel Eyes Look?
How to Make Green or Hazel Eyes Look?
Hazel has a combination of green, gold, and brown eyes. Hazel eyes are unique and different. They sometimes have a dark green circle at the outer edge of the eye, with lighter greens and brown inside and sometime have gold flecks throughout the iris. Sometimes it is hard to decide which colors should suit with these pretty eyes. If you have green hazel eyes and you want to make them to look greener, then here are some tips to do that: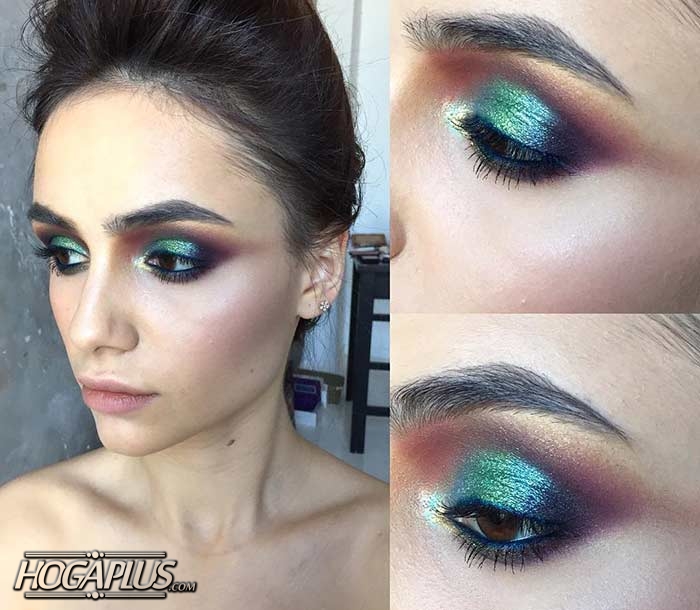 Plum color is one of top makeup colors for hazel eyes because it going great with all colors. The first tip I suggest to do make up on eye with plum color. This will definitely bring out the green color of your eye.
How To Make Your Eyelashes Longer, Thicker & Curlier Naturally
Violet color is also look good with green as well as brown too. It will bring out the real beauty of your green eyes.
Also green color will make hazel eyes more green because both colors of eyes and make up on eye shades are same. Apply the lightest like a base from lashes to brows, the medium one in the crease and the darkest along the lash line. Choose a bright green eye liner and finish your look with black mascara. This method will also make your hazel green eyes greener.
Wearing green jewelry near your eyes will also help you to bring out the green color of your eye. Try wear earrings, pendants or a necklace. Or you can use Some hair accessories which have jewels or decoration like headband or clip with green on it, even you can also use green scarf.
Red color enhance the greens of hazel eyes. But if you use red lipstick, it is also one of the easiest ways to make hazel green eyes brings out. If you add some red highlights to the hair, then it make another good way to pop out hazel green eyes.
Clothe is another advice for those who wants to make their hazel eyes look greener. The best clothes you chose the best your eyes color will enhance. Green eyes become highlighted when you are wearing a green jacket or shirt. The more the green nearer to your face, the more your hazel eyes will highlight the green in your dress.
If you have not green eyes, then you use green contact lens that is best to attain green eyes. If you cannot buy lenses then you also use an application which have filter to change the eye color, you can use this app and change your eye color.
If someone have already have red hair and green hazel eyes then they have nothing to do. Green eyes with red hair are best combination. But those who don't have one of these two (green eyes / red hair) then if they want to pop out their eye color, they should dye their hair with red / dark maroon color. I assure it looks amazing with your eyes.