12 Amazing French Nail Polish Colors & Nail Designs
French Nail Polish Colors & Nail Designs
The tip of French nail design has increase beauty of your finger. Some of the following listings are French Nail Polish Colors & Nail Designs, if French will need to wear less than 10 minutes and you will have a design that is suitable for any party or event.
Following are the top 12 amazing French nail polish colors & nail designs:
Cute Acrylic French Nail Art Design:
Acrylic nails are in fashion now a day. It is time consuming and offering wide-ranging of nail designs. The combination of floral print is elegant and delights especially in summer for party night.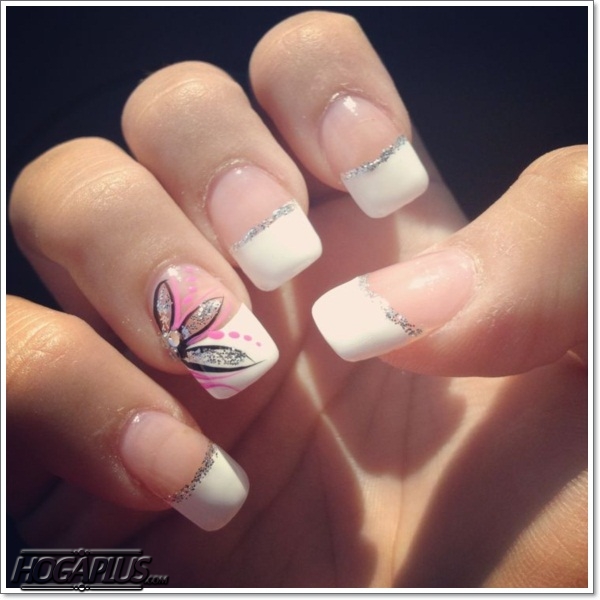 Pom-Pom Party French Nail Art Design:
This is an amazing French tip nail designs which is suitable in full of life party mood.it will make your look complete for any party event.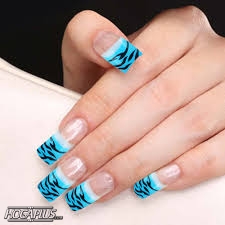 Freeze frame French Nail Art Design:
It is combination of black teal and alpine grey nail polishes to make a perfect picture look.This charming nail group will look master of manners in an event.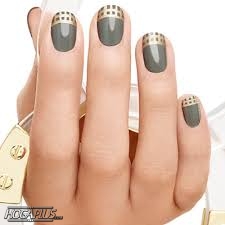 White bow French Nail Art Design:
It will give you a cuter and captivating looks by choosing this fantastic idea of French nail designs. Make a sweet and attractive effect with decorating your French nails with white little bows.
Lining Accent Nail Art Design:
It is a traditional French manicure design which is cooperative for a smart and classy look. Silver polish with green and blue beads emphasized and increase the beauty of your French nail.
Leopard French Nail Art Design:
The leopard design nails French design is having a base of clear nail polish and tips which are covered with cream nail color.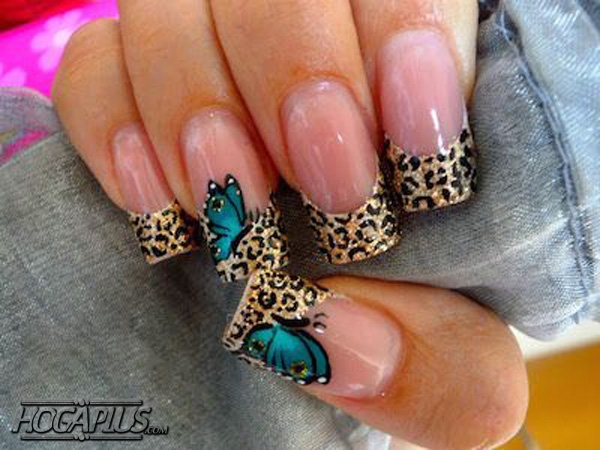 Inverse Color Combination Nail Art Design:
This extravagant design is one of those French nail designs which especially use color overlapping and difference of color combinations for a splendid effect.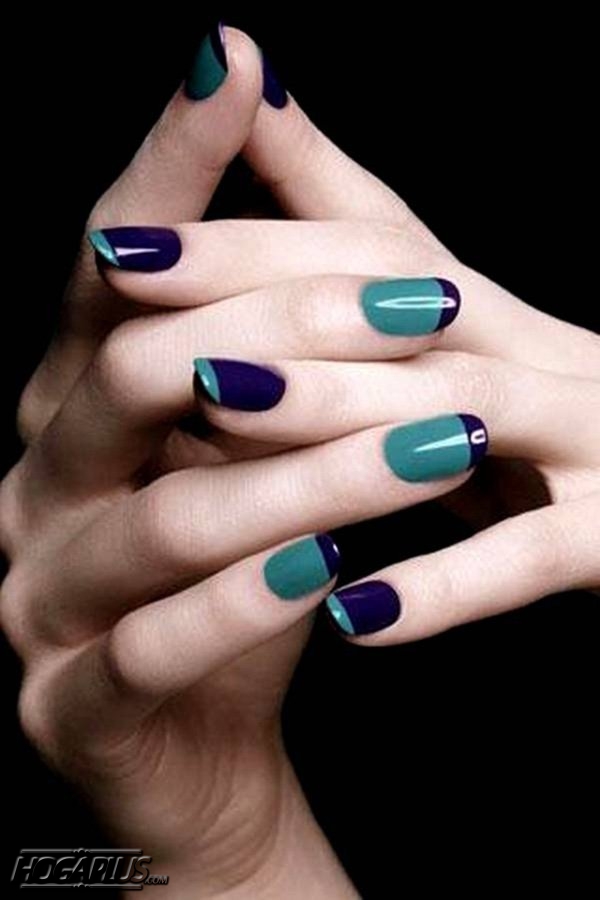 Zebra Strips French Nail Art Design:
It is a style statement by designing a zebra print French shape. Use a light pink color as base and tipped with white polish. The white parts of the nails are emphasized with Zebra stripes.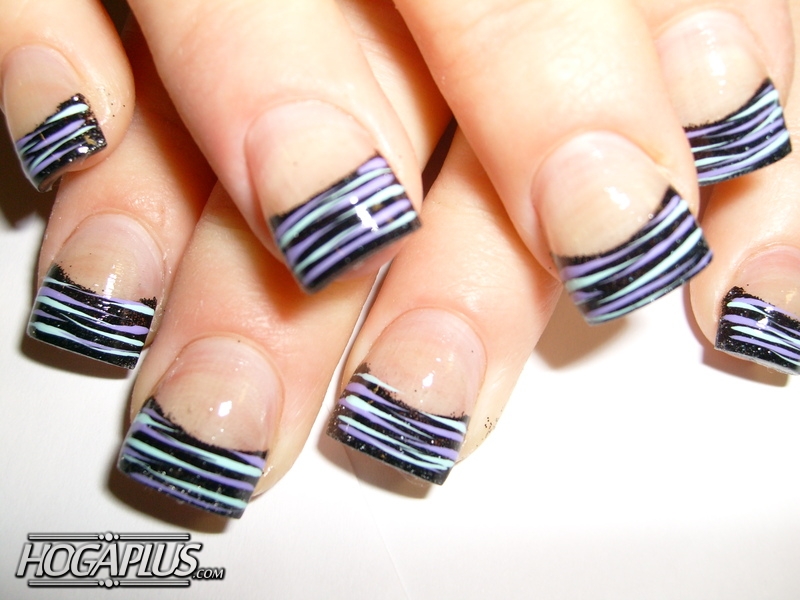 Rainbow hues French Nail Art Design:
This simple French nail design is a good thing for a fuzzy and daily life. It uses clear nail polish on the base and sloped with various rainbow colors such as magenta, sky blue, yellow, pink etc.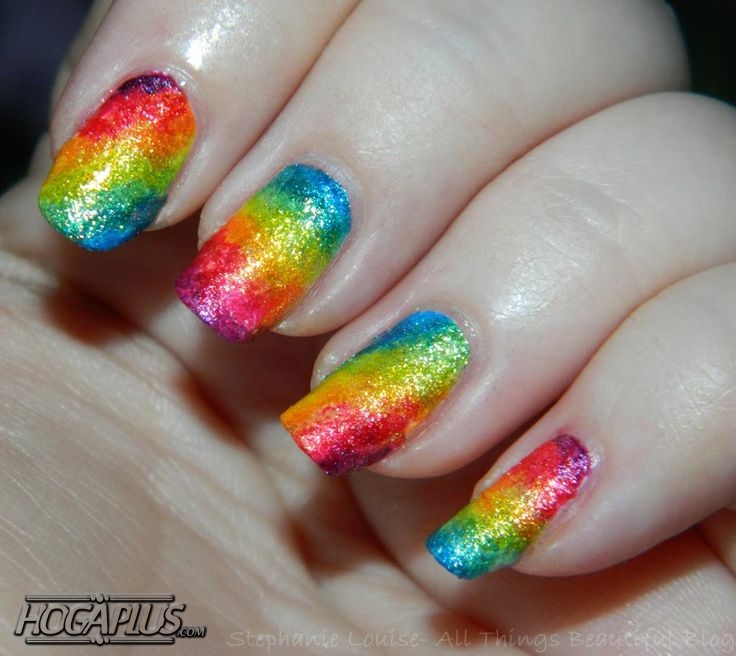 Snowflake theme French Nail Art Design:
This superb design will get you a feel of sensation. Snow flakes theme French design give a very calming, gentle feel and the thin line under the midnight blue nail color is also really gorgeous.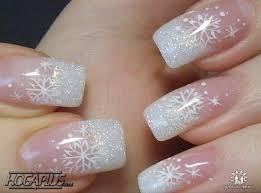 Christmas three layered French Nail Art Design:
Three layered French design of Christmas theme is perfect for short nails because it's very simple and attractive. It requires different shades of red color in three tossing which is a very classy effect.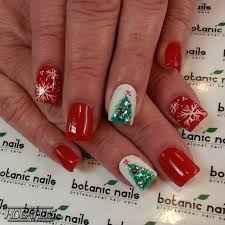 Zigzag French Nail Art Design:
This gentle design in the list of French tip nail designs uses a sea green polish as its base and the tips are covered with white polish in flawlessly zigzag shape.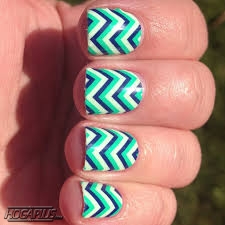 More Nail Designs Style: